–click here for a full list of all my Warhammer 40,000 content–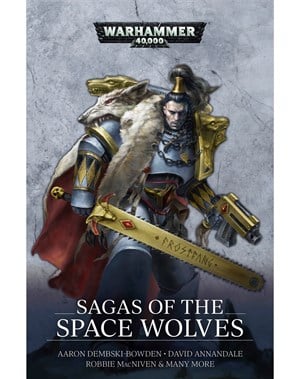 Publisher: Black Library
Genre: Space Opera
Pages: 933
Publication Date: 2020
Verdict: 3/5
This omnibus contains the novels Ragnar Blackmane, Legacy of Russ, Curse of the Wulfen, The Hunt for Logan Grimnar, and multiple novellas and short stories.
Black Library's paperback omnibuses are some of the most physically imposing books I collect. Usually clocking in around eight or nine hundred pages (and with a small font size to boot), they're heavy in the hand and look great on the shelf. My Gaunt's Ghosts collection is one of my favourites to look at with their matching spines, but from Ciaphas Cain to to the Sisters of Battle, they're all satisfyingly chunky. Sagas of the Space Wolves is different from these other omnibuses in that it doesn't gather a specific series, or even a single author. Instead, it collects together four novels about the Space Wolves, and a series of short stories featuring the same characters. The inevitable outcome of this is a book that feels both uneven and somewhat repetitive.
Aaron Dembski-Bowden opens with Ragnar Blackmane. Dembski-Bowden is one of Black Libary's heavy hitters, but he's one I haven't read a full novel from before. Happily, Ragnar Blackmane is my favourite entry in this omnibus. It's a fairly straightforward tale of honour and glory, showcasing the flawed bloodline of the Space Wolves, while not forgetting that they are the heroes of this particular narrative. It also heavily features the Dark Angels chapter of Space Marines, who are suitably mysterious and leave me excited to pick up the books centred on their activities.
Unfortunately, the next story left me cold as the Space Wolves' Fenrisian home. David Annandale is an author I have read before, but his prose style is not to my taste. Leaving that aside, Curse of the Wulfen displays the problem with this omnibus. Even with so many authors, the storylines here are fairly similar. Not simply in narrative beats, but in tone and content too. Obviosuly, the Space Wolves have their niche in the Wahammer 40,000 canon, but here they feel hemmed in by it. There are some deeper dives into their lore, but a lot of the stories can be summed up as large battles punctuated by brooding. This is of course what draws many readers to the faction, and they certainly have livelier moments to keep the casual reader interested too, but I would have preferred a little more variety in the nature of the stories.
The percentile of this collection is The Hunt for Logan Grimnar, a mosaic novel consisting of eight chapters evenly split between four authors. In many ways, it encapsulates the omnibus as a whole, with a routine story being told by many pens. Jumping from one writing style to the next is jarring, but the story is never hard to follow. In fact, the story is one of the stand-outs, showing the Space Wolves taking on more varied foes than just Chaos. I'm not really a fan of the Eldar, but as the villains here they serve masterfully.
All in all, Sagas of the Space Wolves is a mixed bag of exciting scenes but repetitive storytelling. It's far from a bad book, but might be served better by reading in instalments.